Using 3D Printing to Develop Skateboard Risers
Find out how Kevin Seele and BLOCK Riser Innovations are using 3D printing to develop a new style of skateboard risers.
Posted on December 18, 2015
by
Erica Derrico
It all began three years ago when Kevin Seele, founder of BLOCK Riser Innovations, wanted to combine his two favorite hobbies- skateboarding and building. While the designs for a skateboard's wheels, truck, and body had already expanded and changed over the years, risers had not. In fact, they had stayed exactly the same. Seele realized there was potential for a riser mechanism that had multiple functionalities, which led to the idea of BLOCK risers.
For those who don't know what a riser is, it is a small pad or cushion that is added between the truck and deck of the board. If a riser is high enough, it can prevent wheelbite, which is when the wheel touches the deck while turning. Certain risers are also used to determine how sharp you are able to turn. They can also improve your board's suspension if you seek a smoother ride.
---
"After the initial idea was discussed, Solidoodle had just released the Solidoodle 2 for roughly $600. A 3D printer seemed like something great to have, and the skateboard riser was a very compatible product to work with due to its small size and standard use of ABS material," said Seele.
Early development for the BLOCK Risers started out as a Board LOCK, hence the name BLOCK. Other ideas were the StashBLOCK, an area to store small items, and GoBLOCK, a spot for a GoPro. The ideas and testing began flowing, and the company started to evolve with rapid speed.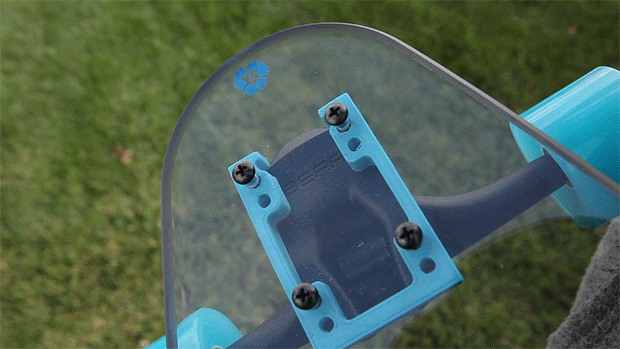 StashBLOCK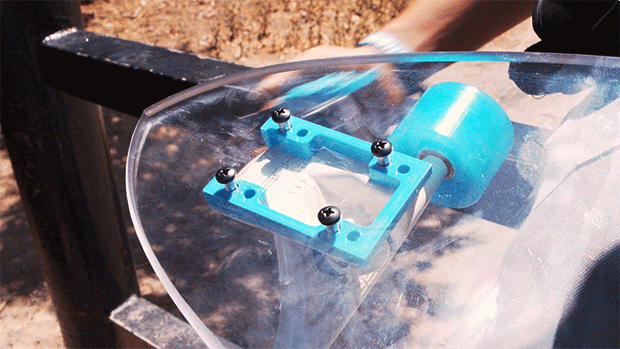 GoBLOCK
GoBLOCK
---
"Using 3D printing was much cheaper and faster due to the ability to prototype and test within hours instead of months," Seele said.
Almost ready to get off the print bed and start skating!
---
BLOCK has several products, all 3D printed. Their current product list is as follows:
BettyBOX

(patent pending)- The BettyBOX takes the place of a standard riser and adds an open cavity with locking tabs to allow for inserts.

StashBLOCK

– Drawer insert

GoBLOCK

– An action camera mount insert most commonly used for a GoPro camera.

TopBLOCK

– The TopBLOCK serves multiple functions. It can act as a StashBLOCK cover on a clear skateboard such as a Jelly. It can pair with the BettyBOX on a drop-thru truck mounted skateboard to allow for use of the GoBLOCK or StashBLOCK or it can be used as a 1/8" shock pad.
All of Seele's BLOCK risers have been tested and printed in MatterHacker's ABS filament. BLOCK Riser Innovations is currently teaming up with Jelly Skateboards to develop all the potential uses of modern risers. Check out the cool stuff they've both been working on at their IndieGoGo campaign.
Do you think you have what it takes to be our next Hacker of the Month? Simply follow us on Facebook/Twitter or email media@matterhackers.com. Tell us about your project or 3D printed creation, and you could be featured in our next newsletter. Hacker of the Month will also win a free spool of PRO series PLA or ABS filament to further their pursuit of 3D printing greatness.