The BuildTak FlexPlate System makes removing finished 3D prints from the print bed easier than ever. When a print is finished, the FlexPlate along with the BuildTak sheet slide right off the magnetic base. With a gentle twist, your finished 3D printed part should pop right off!
Product No. M-2EL-ZH73
List Price:
$

90.00

Price:
$

63.00

Price:
$

...

Order Now:
Ships

calculating...

Free U.S. Shipping
Size: 8.66" x 8.66" (219.95mm x 219.95mm)
Compatible 3D Printers include: Prusa i3, A8, Duplicator6, Maker Select
**Check out all the available shapes and sizes of the BuildTak family here!**
SIMPLE UPGRADE, BIG RESULTS
No matter the shape, size, or design of your 3D printer, adding a BuildTak FlexPlate System converts it to a removable print bed system. Instead of reaching into your 3D printer and removing parts there, you can now remove your FlexPlate from the entire print bed along with your finished 3D printed part. Take your FlexPlate and finished part to your chosen workspace, bend the FlexPlate in any direction, and your 3D print should effortlessly pop off of the BuildTak print surface. This simple upgrade to your 3D printer can make a world of difference. Once you experience the ease of using a FlexPlate with BuildTak, you'll never want to print on anything else.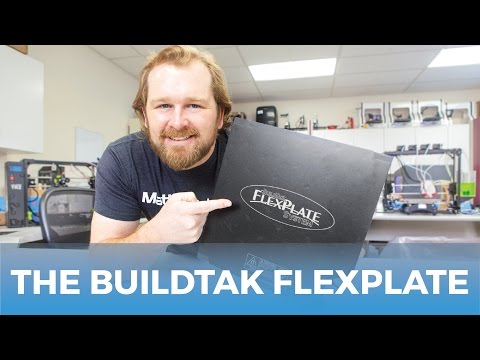 MAXIMIZE YOUR MACHINE TIME
BuildTak Sheets have been a favorite 3D printing surface for over two years, and the FlexPlate System makes utilizing BuildTak even easier. Available in a variety of sizes to fit all kinds of 3D printers on the market, simply install the Magnetic Base on top of your 3D printer's existing print bed, adhere a BuildTak sheet to the FlexPlate, and magnetically attach the FlexPlate to the Magnetic Base. After your 3D print is finished, the FlexPlate with the BuildTak sheet can be easily detached from the print bed, flexed in any direction, and with a gentle twist, your 3D printed part should separate from the print bed cleanly. Replace the FlexPlate back onto the Magnetic Base, and you're ready to print again!
The BuildTak FlexPlate makes removing prints quick and easy!
WHAT'S IN THE BOX?
1 x BuildTak Sheet
1 x BuildTak FlexPlate
1 x BuildTak Magnetic Mounting Base
Why buy from MatterHackers?
Put simply, MatterHackers is the smart place to shop for all things 3D printing and digital manufacturing. The MatterHackers pros are here to partner with you through every step of your journey turning idea into reality and here are just a few of the perks you'll receive as a customer:
Free, Fast Shipping on orders over $35
No matter how large or small your order is, U.S. customers will always receive free, fast shipping on orders over $35. Most orders placed before 4pm ET M-F ship same day.
Lowest Price Guarantee
We work hard to make sure that we offer the lowest prices available - shop confidently knowing you're getting the best deals on the items you love. Learn more about our Lowest Price Guarantee here.
Rewards Program
We just want to help you save - MatterHackers' customers can earn a store credit of 3% back on all eligible purchases. Learn more and become a Rewards Program member here.
Success Guarantee
MatterHackers is invested in your success. From our free phone and email support to our easy exchange program, MatterHackers sets you up on the road to success even with just one purchase. Learn more here.
Have a question about this MatterHackers BuildTak FlexPlate System 8.66" x 8.66"? Looking for a recommendation? No problem. Feel free to contact us.